More from the Wallingford House: Our First Dining Room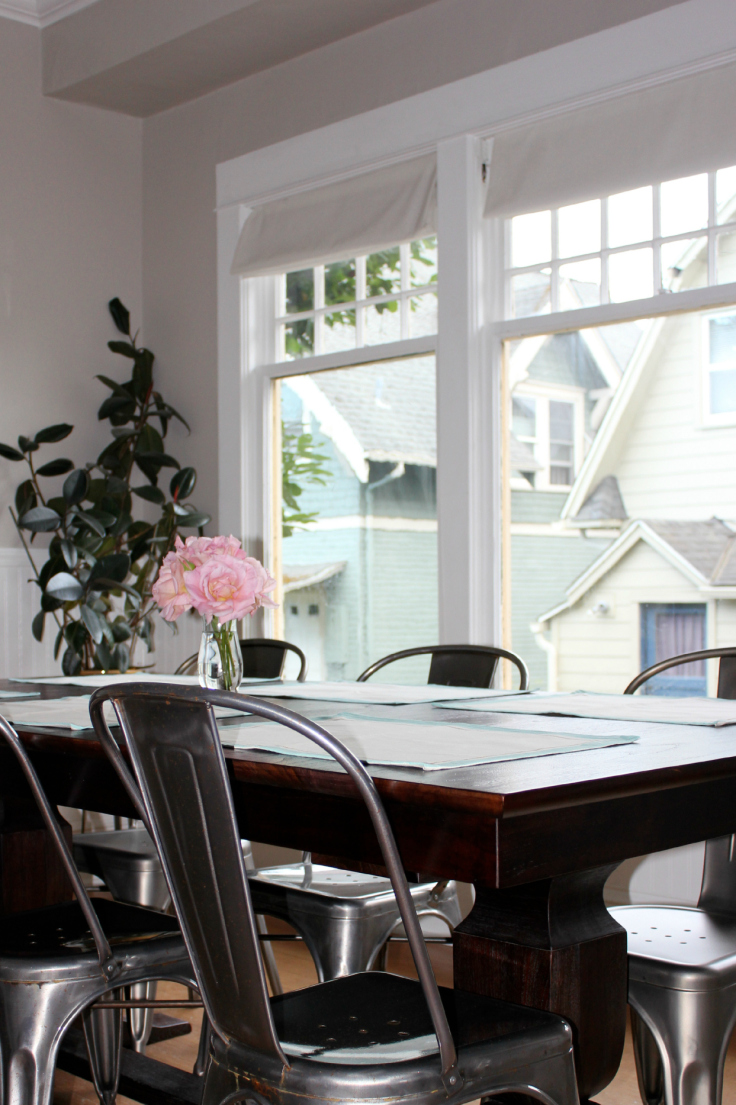 THE WALLINGFORD HOUSE How was your Thanksgiving?  Ours was awesome!  We spent tons of time with family and ate like Kings.  Kings eat lots and lots of stuffing, right?  Wilder particularly liked dipping his turkey in the gravy and licking it off.  You might be asking what kind of parent would let their 17-month-old eat straight salty, fatty gravy, but yeah that happened.  Wilder played with all 5 of his cousins like mad and was pretty bummed when they went home.  Like I said, an awesome Thanksgiving!
Since we're talking about Thanksgiving, let's take a peek at the dining room where we hosted our first Thanksgiving.  The dining room of our Wallingford House.  I introduced you guys to our first house last week, so today let's just keep going...the dining room:
The dining room at the Wallingford House is light and bright and big enough to hold a table for 8.  I remember when we first toured the house, it was mid-day in September and sunlight was literally streaming through the 3 double-hung windows on the south side of the dining room.  It made me feel like Seattle was so bright.  Like there would never be another overcast day ever again.  And I think my heart fell for it.
I was so in love with the Wallingford House, I was sure this house would be our's before we even finished touring the dining room.
When we lived in the Wallingford House, we had the same table and chairs that we have now in the Ravenna House's kitchen.   We bought the table on mega-sale at Crate and Barrel (discontinued) and the chairs came from Industry West.  Depending on the weather we'd swap the chairs from the dining room to the table on the back patio and back again.
I really love this dining room.  Both for it's peaceful and bright demeanor and the memories we have in it.  When we hosted our first Thanksgiving here, my entire family - including my sister and brothers, their spouses, and children - sat around our table.  It was tight, but no one seemed to mind.  When my grandfather died that same year, I made a carrot cake - his favorite cake - and we ate it here, telling stories and laughing through our grief.  Garrett and I celebrated highs and lows here, the exciting and the mundane.  We planned and dreamed and endured, all right here, in this very room.
In case you hadn't noticed I'm a sentimental person.  To me, the space we live in becomes a living and breathing extension of our lives.  This house is so engrained in our story, that it's part of the family.  And this dining room is at the center of it all.
I know people say that the kitchen is the heart of the home, but in the Wallingford House, it's the dining room.  And I hope that one day in the not too distant future, we'll host another Thanksgiving in this room.
xoxo
-Cathy
p.s. Or maybe I want to host thanksgiving here.  Yes, definitely here.
p.p.s. The blogger that got me into Simply White.  Can't wait to find out what her next white will be...
p.p.p.s. Great tips for keeping your home clean.  With all the guests we've been having, these tips are really appreciated and timely!