How to Save Money On A Kitchen Remodel (+ Win $25,000 Towards your own Kitchen Makeover!)
THE FARMHOUSE
We've been making progress on our Farmhouse kitchen remodel and today I wanted to share a few ways we're saving money on this project. Major kitchen overhauls are expensive, there's no way around that. But over the years, Garrett and I have developed a few tried-and-true strategies for keeping kitchen costs as low as possible. Today we're parting with Figure.com to bring you our 9 best tips for saving money on a kitchen remodel.
pssst: there's a chance to win $25,000 towards your own kitchen makeover at the bottom of this post! This is a fun and easy contest that you can enter up until 5pm PST on July 10. I'm crossing my fingers for you!
This post is sponsored by Figure.com, an online finical services company. All content, ideas, and words are our own. Thank you for supporting the brands that support the Grit and Polish!
In no particular order, here are our 9 best strategies for saving money on a kitchen remodel…
One // Keep Existing Materials when you Can
We're big believers in keeping original materials when we can make it work. You know that old adage, "they don't make them like they used to"? Well I'm a firm believer in that. Not only are old materials usually high quality, but they add character and can save you a ton of money and time by not replacing them. At the Farmhouse, we're keeping the existing cabinets and painted them white for a fresh look. The walls, doors, windows, and probably the floors will all be saved too.
Example: our ongoing Farmhouse kitchen remodel.
four // Pick Your Splurges wisely
I believe in a couple of key splurges for every space to really pump up your design. For our Dexter House, it was the sconce lighting and range. But in the past it's been pendants, tile backsplashes, butcher block islands, cabinet hardware, and/or appliances. One or two key splurges can really elevate your entire space!
Example: at Dexter we splurged on the sconce lighting and range.
five // paint!
Paint has to be the least-expensive way to transform a space quickly. Open up the can, slap the paint on, and suddenly that old and dingy space feels bright and fresh. We've painted almost every cabinet we've ever put into a kitchen (both new stock cabinets are existing cabinets) and none are more eye catching than the 6 Day Kitchen's.
Example: we turned the 6 Day Kitchen's new stock cabinets into custom looking beauties with a little bit of paint.
eight // focus on the range
And speaking of appliances, we always focus the majority of our appliance budget on the range, and look for budget-friendly options on the fridge and dishwasher. The range is usually the first thing people notice and it can really make a statement. We opt for slide-in, backless ranges that feel 'pro-style'.
Example: the Tacoma Converted Garage with a slide-in, backless range.
Do you have any other budget tips to add? I'd love to hear them!
real-world budgets
Now that I've shared our favorite budget tips, I wanted to provide 3 of our kitchen remodel budgets. All of these remodels came in at under $12,000 (2 of them under $10k!) and you can see a breakdown of each by using the links below.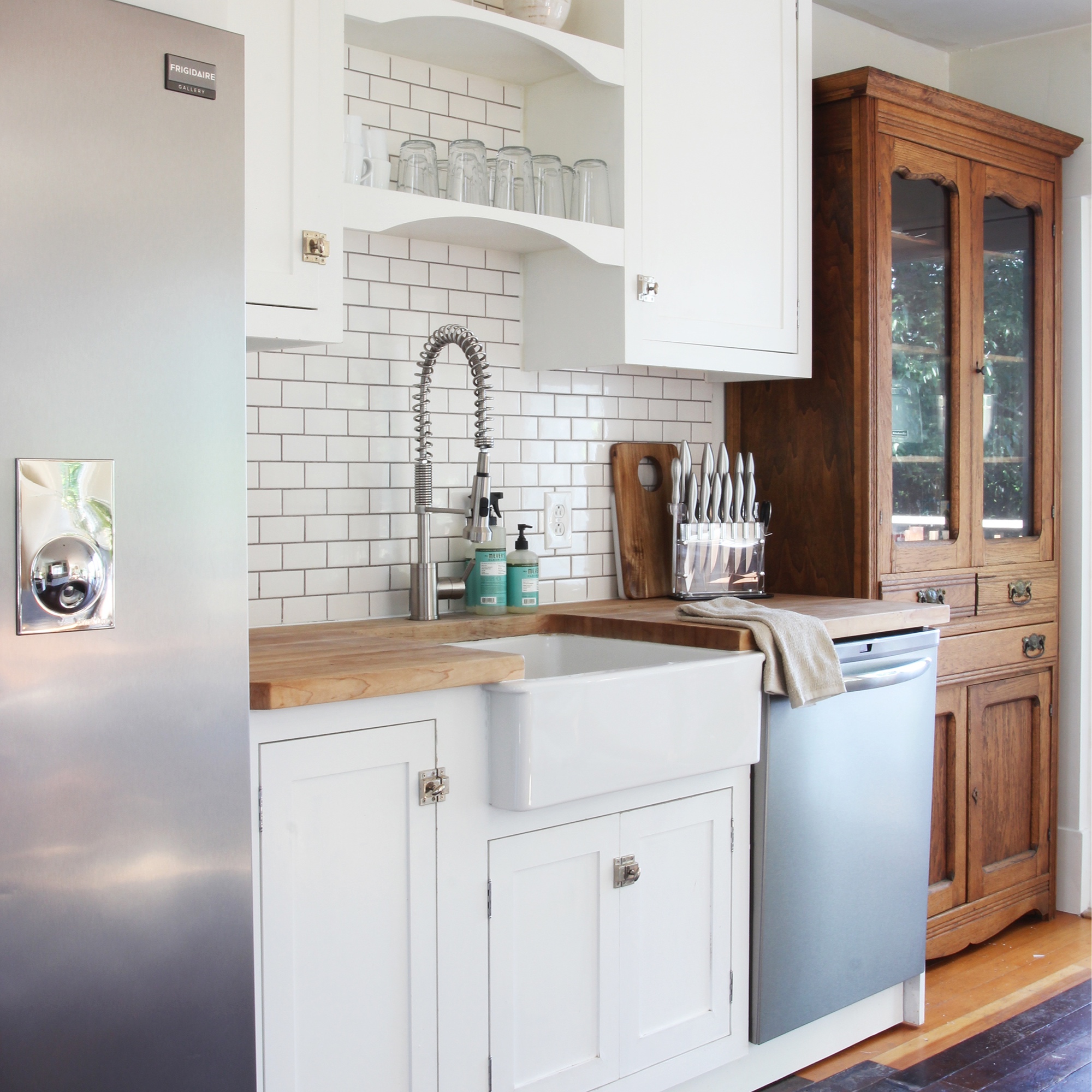 Tacoma Converted Garage Kitchen
Enter to Win $25,000 towards your own kitchen makeover!
And now, let's talk about your kitchen… Figure.com wants to turn your UGLY kitchen into a DREAM kitchen! They're giving one lucky homeowner $25,000 to completely redo their kitchen with the Figure Ugly Kitchen Contest. The contest is open for submissions until 5pm PST on July 10. The contest is open to public voting until noon PST on July 11. The grand prize winner will be announced on or around July 14. Full rules are available at www.figure.com/uglykitchen. Eeeek! I hope you win!
And in case your'e curious who Figure.com is…they're a new kind of financial services company that uses online applications and speedy approvals for home equity lines of credit. Garrett and I used a home equity line to complete our Ravenna house renovation and put down payments on the Dexter House and our Farmhouse. Home equity lines have been a great tool for us to access the equity we've put into our homes, which we've turned around and used to grow our real estate portfolio using the BRRRR method (well, something similar anyway). Anyway, just our two cents on home equity lines.
Now go enter that contest so I can see your new kitchen!